Cañon City, Colorado, is the Solitary Confinement Capital of the Western World. Now, a Small Group Lawyers, Legislators, and Activists Is Challenging This All-American Form of Torture.
Part 2: Showdown at the Colorado State Penitentiary
Time passes slowly for the 750 prisoners at the Colorado State Penitentiary (CSP) on the outskirts of Cañon City. For years they were, like most supermax prisoners, virtually invisible to the public—but that has recently begun to change. CSP gained  notoriety last year as the subject of a documentary on solitary confinement by National Geographic Explorer. And now, a bill introduced in the state legislature, which seeks to curb the use of solitary, has made the state of Colorado—and CSP in particular–a focal point for a rising national movement against isolated confinement.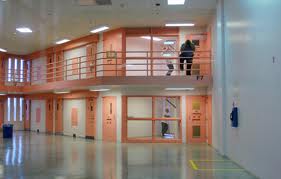 The men who inhabit CSP are more typical of supermax residents than those at ADX, and few of them would qualify as "the worst of the worst." Prisoners from throughout Colorado's correctional facilities land in administrative segregation, or "ad seg," at CSP for fighting with other inmates or guards or for making threats or "compromising" or "intimidating" staff; for being identified as gang members; for having contraband (which can include not only weapons but cigarettes or "drug paraphernalia"); for attempting to escape, refusing a work assignment, "advocating facility disruption," or generally posing a "serious management problem"—all on the say-so of prison officials. Prisoners are entitled to a hearing, but according to a 2005 study, 90 percent of these hearing result in the segregation requested by prison staff. Terms in solitary last an average of 18 months, but many stretch to years.
Whatever their violations of record, many prisoners find their way to CSP by exhibiting the symptoms of untreated mental illness. Since the 1980s, as budgets for social services have been slashed to the bone even as prison costs exploded, prisons have increasingly become the new asylums, and supermax isolation has become a substitute for appropriate mental health or substance abuse treatment for tens of thousands of prisoners. When the bipartisan Commission on Safety and Abuse in America's Prisons issued its report in 2006, one of its primary recommendations was to "protect mentally ill prisoners" with disciplinary issues from being placed in solitary confinement, rather than in the "secure therapeutic units" where they belonged. To date, only a few states have made progress in this area–and they did so only when their hands were forced by lawsuits. According to a report from Human Rights Watch, which based its estimates on available data from the states, one-third to one-half of prisoners held in segregation suffered from mental illness. In Colorado, by the state's own calculations, the figure in 2005 was 37 percent, up from 15 percent a decade earlier. The increase, according to the state's report, had followed "a dramatic decline in mental health professionals and rehabilitation programs that were a casualty of budget cuts."
Troy Anderson has spent 23 of his 40 years on earth behind bars—and the majority of those years in solitary confinement. His list of diagnoses includes ADHD, bipolar disorder, intermittent explosive disorder, anti-social personality disorder, cognitive disorders, a seizure disorder, and polysubstance dependence, and he has attempted suicide many times, starting at the age of 10. Now serving a 75-year sentence, Anderson has been seen periodically by prison psychiatrists, all of whom seem to concur that he is seriously mentally ill and needs therapy and medication. On at least one occasion, he briefly received treatment in a facility designed for prisoners with mental illness, and improved considerably. But he was taken from that facility and sent back to CSP, where his mental health treatment has been a fiasco of intermittent and inappropriate medications and scant therapy, sometimes conducted through a slot in his solid steel cell door.
[Go to Part 1: The Alcatraz of the Rockies]