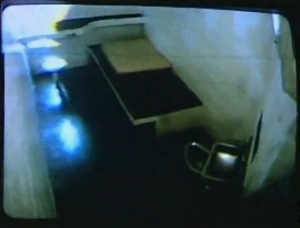 Prisoners at Utah State Prison, Draper's supermax Uinta One facility have reported numerous abuses to Solitary Watch. The Uinta One facility has a design capacity of 96, and is divided into eight sections with twelve cells each, with approximately 90 prisoners currently held in solitary confinement for reasons varying from short-term disciplinary action to protective custody.
Prisoners in Uinta One may receive only 3 hours a week of time out of their cell to shower or exercise alone in a concrete yard. The cells are small, and some are fitted with cameras. The windows on the cell doors are covered by a steel flap that guards routinely peer through. Sand bags line the doors to prevent "fishing," or communications being passed from cell to cell, and cell flooding.
Reports prisoner Brandon Green, who has spent five years in Uinta One, "Bugs get trapped under these and set up little colonies and infiltrate our cells. Most of these toilets do not flush correctly and most cell toilets stink with green moss inside the bowls. Most air vents are clogged and one can taste the city exhaust smoke as one chews ones carrots."
One prisoner has called Uinta One a "place of pain and terror," while another has commented "no wonder there are so many suicides."
Individuals in Uinta One have written Solitary Watch about the frequent use of strip cells as a disciplinary measure and response to suicidal ideation. A strip cell is a cell without anything beyond a concrete bedding area, toilet, and sink. Prisoners in these conditions wear a smock, a tear-resistant gown. (Solitary Watch has previously reported on the use of strip cells at Utah State Prison.)
L., who spent 33 months in Uinta One in total as of October 2012, told Solitary Watch that  "if someone is gonna kill themselves they take them and out to a strip cell and you sleep on the hard floor and treated like a dog." A., in protective custody for one year following his decision to leave  gang life, reported that "if I lose control because of something I have no control over, they'll punish me and put me on strip cell for three days…when a mentally ill inmate feels suicidal, they send us to the infirmary to be on suicide watch…then we get from suicide watch back to Uinta 1 and the staff put us back in the strip cell when we get back to Uinta 1."
Mental health treatment is reportedly abysmal. "Only medication. And nothing else. It's all about money with these people. They charge you money only to see a mental health worker for one or two minutes and they'll walk away and do nothing for you," reports A.
A. has further written that the use of strip cell is "for punishment purposes. Otherwise, why would they put someone on strip cell? For simply calling the officers names or an inmate who can't emotionally deal with this place goes on strip cell. When some of us feel suicidal, the officers say 'Please don't do anything on my shift. Wait until I leave and you can do whatever you want.' Their policy states that they must carry themselves in a professional manner, but it's ok for them to go against policy, but if we do that it's hell to pay and strip cell to see."