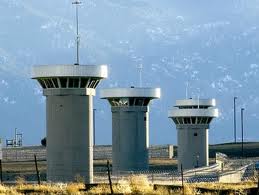 Journalists face serious obstacles to reporting on prisons–and even more to uncovering the truth about solitary confinement. (See James Ridgeway's essay "Fortresses of Solitude.")
Public oversight of governmental institutions, which can help to prevent corruption and abuse by those in power, is seen as a hallmark of an engaged, democratic citizenry. However, when it comes to obtaining information about individuals kept in solitary confinement, the press, and by extension the public, are often kept in the dark.
The Supreme Court ruled, in Pell v. Procunier, that the First Amendment does not guarantee the press special access to prisons beyond what is generally afforded the public. The Court reasoned that since other methods of communication feasibly exist, like letter writing, freedom of the press is not compromised by even severe limitations on access to prisons and prisoners. Suffice to say, these barriers to entry and examination, involving layers of bureaucracy as well as outright bans, help to minimize investigative inquiry and avoid close scrutiny of prison practices.
The Society for Professional Journalists recently published a study by Jessica Pupovac of press access policies to prisons in general, which vary greatly from state to state. Policies related to solitary confinement tend to be even more restrictive, and even more variable.
In an investigation of the prison systems with the largest numbers of prisoners in solitary confinement, Solitary Watch has compiled a brief summary of some notable differences and takeaways between the states' policies.  We examined the Federal Bureau of Prisons, California, Florida, Illinois, Louisiana, New York, Ohio, Pennsylvania and Texas.
Differences in policy are evidenced by–among other things–supervision of interviews, access to certain types of prisoners, access to certain areas of prisons, and the ability to use recording devices. Many states leave themselves the right to deny interviews if they feel it will cause "a disturbance" but none of the policies state what that would qualify or how that would be measured, and thus the bottom line is that in most cases, prison officials usually have considerable latitude in deciding whether a reporter may interview a particular prisoner.
Our hope is that this initial look will spark a wider conversation about public awareness with regards to U.S. citizens who are locked away for weeks, months, or years in solitary confinement.  While there are alternative means for obtaining information, these are often insufficient in eliciting the types of things that can be learned through a journalist's first-hand observations, and through face-to-face conversation.