The following account comes from our faithful reader Alan CYA #65085. He recalls time spent, more than 40 years ago, in a juvenile jail in California–and a Christmas spent in solitary.
.   .   .   .   .   .   .   .   .   .   .   .   .   .   .   .   .   .   .   .   .   .   .
"To deny one's own experiences is to put a lie into the lips of one's own life. It is no less than a denial of the soul." — Oscar Wilde, "De Profundis," 1897
One of the biggest ironies in my life is that after years of incarceration, I opened my business a block away from two large jails and a halfway house. Since 1987, I have worked practically in the shadows of these institutions while attempting to ignore the human misery found inside. Like most people, I find that out of sight means out of mind–but unlike most people, I know firsthand the horrors that take place within such confines. My prior silence about these conditions would eat away at my soul whenever I allowed myself to ponder the purpose of these structures. Like ghosts wandering the hallways of a dwelling, the faces of the many victims of institutional violence that I have witnessed, read about, or just heard of over the years haunt the corridors of my mind.
Writing about my past has always been a difficult process for me to undertake. I liken it to ripping off a scab in order to take a closer look at the wound. But I am driven by ghosts, with my own brother's tortured soul at the wheel.
You see, after spending over a decade in continuous isolation in about a half-dozen of California's worse prisons, my nonviolent half-brother Victor died in Salinas Valley Prison's SHU sometime in early 2007. The prison claims he hanged himself. "But why would he kill himself when he was about to be released?" we all asked. In fact, none of us believes that Victor killed himself. Everyone in the family believes that the guards were involved. (The Sacramento Beehas written extensively on the Green Wall of silence at Salinas, which is a reference to the color of the correctional workers' uniforms and their coordinated cover up during investigations of alleged abuses taking place there.)
Although my own experience pales in comparison to my brother's and countless others, I am still haunted by my own painful memories of the years I spent incarcerated in the California Youth Authority (CYA), and other such juvenile facilities. Possibly my worst memories are of the many stints I spent in solitary confinement, beginning when I was nine years old.
Recently, I found a series of photos that included shots of the Preston School of Industry in Ione, California, including its solitary confinement unit. It is a place I hadn't seen since I was held there myself, 44 years ago, at the age of seventeen. The opportunity to take photographs of the bowels of Preston was only made available after Preston Youth Correctional Facility (it had under gone a name change in 1999) closed its doors on June 2, 2011, under pressure from the public due to claims of abuse.
Located in a pastoral setting on the western slope of the Sierras, Preston opened on July 1, 1894. It included two noteworthy landmarks. The first was an extremely high watchtower, and the second was Preston Castle, with its Romanesque Revival facade, both eerie and spectacular. Inmates were housed in this intimidating, decaying structure until 1960, when the new facilities were completed.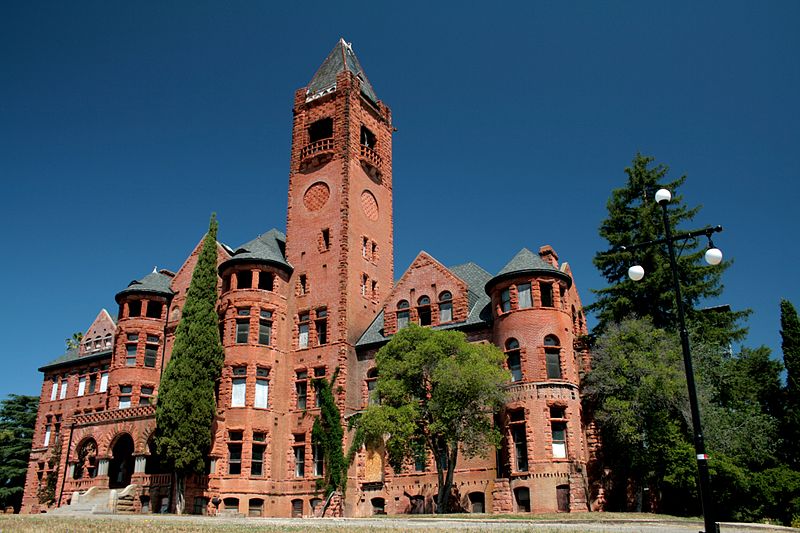 I was transferred to Preston on November 12, 1968, and I can still remember my escort taking me down the hill to my new residence. Sequoia Lodge was located a good distance away from all the other lodges in the far left hand corner of the institution from the main gate. This was because it housed the most violent prone wards in the California Youth Authority system. At Sequoia Lodge we were housed in individual cells, not dorms. Looking back on it, this was a blessing, because most of those housed with me were convicted murderers, rapist, or child molesters. I, however, was there for disturbing the peace, and my parole was suspended under section 602W&I of the penal code, which defined a "Delinquent Child" as "An individual of not more than 18 years of age who has violated criminal laws or engaged in disobedient, indecent or immoral conduct, and is in need of treatment, rehabilitation, or supervision."
The institution's grounds were dotted with clusters of nondescript one-story, concrete and cinderblock buildings, interconnected by narrow asphalt roads. These roads were used to march us in formation military-style to various locations. Numerous concrete walkways intersected these roads, leading to our lodges, schoolrooms, chow halls, work areas, recreational facilities, auditorium, clinic, and other administration buildings. The recreational facilities such as the football field, gym, and pool were only window dressing designed to appease visiting social activists, for we only rarely had access to any of them. School was devoid of lectures and the instructor was no more than the custodian of educational materials.
Tamarack Lodge, previously called Company G, was built in 1929 on the grounds of Preston School of Industry and was used as a solitary confinement unit when I arrived.
I have discovered that under the Penal Code of Preston School of Industry, youths could originally be held in solitary confinement for up to one year: "Every person who commits an assault upon the person of another with a deadly weapon or instrument, or by any means or force likely to produce great bodily injury, is punishable by imprisonment in Company G, or in Company F, not exceeding one year, or by fine not exceeding thirty-six dollars or by both."