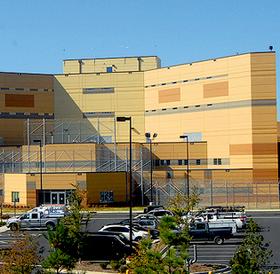 Lawyers at North Carolina Prisoner Legal Services have filed a federal lawsuit on behalf of eight people held in solitary confinement at Central Prison against officers and administrators at the facility. As reported by the Associated Press:
A federal lawsuit on behalf of eight inmates at North Carolina's Central Prison alleges correctional officers used "blind spots" out of view of security cameras to beat handcuffed and shackled inmates.

An amended complaint filed last week in U.S. District Court by lawyers at North Carolina Prisoner Legal Services says the beatings occurred in Unit One, a cell block known as "The Hole" where inmates are kept in solitary confinement for disciplinary reasons.

The inmates' abuse claims are supported by medical records documenting blunt-force injuries that occurred while they were segregated from other prisoners, including broken bones, concussions and an inmate who is still unable to walk months after his hip was shattered.

N.C. Department of Public Safety spokeswoman Pam Walker said the agency would not comment on pending litigation.

The lawsuit names as defendants 21 correctional officers accused of participating in the abuse, as well as two wardens at the maximum security prison in Raleigh. The lawsuit alleges that former prison administrator Gerald J. Branker and current administrator Kenneth Lassister knew about the problems.
The suit seeks to eliminate this problem going forward, calling for the Court to order installation of surveillance cameras throughout the hallways of Unit One, stating "Given the history at Central Prison's Unit One, these measures would benefit prison officials, prisoners, and the taxpaying public, and are required by the Eighth Amendment of the United States Constitution."
The article goes on to describe several instances of guard brutality:
One violent beating was Dec. 3, 2012, and left inmate Jerome Peters in a wheelchair, according to the lawsuit.

[Jerome] Peters, 48, was handcuffed and escorted by two correctional officers from his cell to an outdoor recreation area when the lawsuit said one of the guards punched him in the face while the other grabbed a leg and pulled him the ground. The lawsuit said a third correctional officer then helped the other two kick, stomp and punch Peters.

When they were finished, the lawsuit said the officers put shackles on Peters' ankles and ordered him to walk. He couldn't, the suit said, because his pelvic bone was broken…

Peters was taken to an emergency room and diagnosed with a broken right hip, and fractured bones in his hand and face. He also had blurred vision and numerous cuts and bruises, according to the lawsuit. He underwent surgery, but more than five months later is still unable to walk.