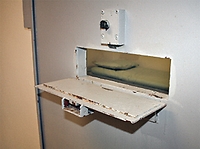 When asked to describe his experience in solitary confinement in a Florida jail at the age of 16, Henry R. (pseudonym) stated:
The only thing left to do is go crazy—just sit and talk to the walls… I catch myself [talking to the walls] every now and again. It's starting to become a habit because I have nothing else to do. I can't read a book. I work out and try to make the best of it. But there is no best. Sometimes I go crazy and can't even control my anger anymore… I can't even get [out of solitary confinement] early if I do better, so it is frustrating and I just lose it. Screaming, throwing stuff around… I feel like I am alone, like no one cares about me sometimes I feel like, why am I even living?
The quote comes from the 2012 report Growing Up Locked Down, which covers the use of solitary confinement on children and teens under the age of 18 in U.S. jails and prisons. The comprehensive report, prepared by the ACLU and Humans Rights Watch, calls for an end to the isolation of young people, based on evidence of the profound psychological damage such isolation can cause.
Now, Florida legislators are considering a bill that would help prevent kids like Henry R. from being subjected to the abusive use of solitary confinement. Filed last month by State Senator Audrey Gibson, the bill, called the Youth in Solitary Confinement Reduction Act (SB 812), seeks to reduce the detrimental impact of solitary confinement on young persons by prohibiting the use of the practice except under specific circumstances.
The proposed legislation requires that the confinement be "the least restrictive to maintain the safety of the youth prisoner and the institution." The bill further imposes time limits on the use of confinement by situation, restricting emergency confinement and disciplinary confinement to 24 and 72 hours, respectively, also requiring time out of solitary cells to lessen the effects of psychological damage.