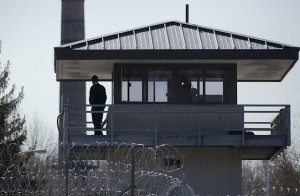 The following essay comes from Sara Rodrigues, formerly imprisoned at Bedford Hills Correctional Facility, a maximum-security prison for women in Westchester, New York, and now further upstate at Albion. When Sara was sent to prison at the age of 16, she found her friend D there as well. Both Sara and D had life-long struggles with mental health, and while in prison, spent long periods of time in solitary confinement (both Keeplock, which is lockdown in one's own cell, and SHU, which is the Special Housing Unit).
Sara writes about the difficulty D faced when she was finally released and put on parole, with no transitional assistance to move from prison to the free world. She ultimately ended up back in prison and committed suicide, shortly after giving birth to a baby girl. Sara Rodrigues wrote this piece in the hope of spreading awareness of her situation and the experience of many people around her. She writes, "Too many inmates in New York State under the age of 25 are killing themselves in prisons because they are literally being thrown away like garbage by the court systems." (Thanks to Jennifer Parish of the Urban Justice Center for forwarding this essay to Solitary Watch.) –Rachel M. Cohen
.  .  .  .  .  .  .  .  .  .  .  .  .
This essay is dedicated to D and all those who have given their minds and/or lives trying to pay their debt to society and to those who will forever be haunted and scarred from our justice system. Once self-worth and hope dies within our souls, what is left behind is a shell of life that can see no future, no redemption and no chance for a normal life. It is then that our minds realize how truly unwanted we are and how on a daily basis we are reminded that society has no use for us. Day by day life becomes very dark, some lose their minds, some will never be the same, and some just give in and take their own lives.
Many people who are sentenced to prisons are very young and have serious behavioral and mental health problems and this environment only makes their sickness worse. This is D's story and how somehow out of the tragedy of her passing has made me resolve to open people's eyes to the greater damage that happens to everyone by throwing the very young, mentally and emotionally ill into cages to rot under the pretense that more punishment, isolation, and deprivation will make people change for the better. This story has nothing to do with not doing your time, but doing your time in a healthy corrective facility, not the factories of misery that most of our prisons are today. D's death had such an impact on me that she inspired me to keep fighting for my sanity, to try to never give up, and to get the word out whether people care to hear the truth or not.
In December 2008, I tripped and fell down the rabbit hole. Instead of "Alice in Wonderland," I became Sara in Prisonland and I am still to do this day trying to wake up from my nightmare. I was 16 years old entering RCOD (reception) in a maximum-security prison, Bedford Hills. My sentence was eight, years flat and 5-post release supervision, I was scared and in definite culture shock, it was all so alien and overwhelming. Later I learned D was there, to me D was my cousin, my best friend, and a sister all rolled into one. We could talk about anything, she helped me so much to get used to this crazy way to survive my new life. We also argued a lot as young teenage girls often do, now in hindsight I regret ever getting angry and wish I had been a better friend.
Some months later, she was paroled and went home but it did not take long and here she was again. Being so young when she went into prison, the outside world was just too overwhelming for her. This and coupled with the fact that there are no transitional programs for people leaving prisons in the area we live in, which is Jefferson County, this leaves all parolees pretty much on their own. Get out of prison, go report to parole, go to Credo, (drug and alcohol counseling), go to mental health, get a job, pay your rent, don't drive till we say you can, pay parole, pay credo, be home at curfew. You give up because it is all to stressful, can't get a decent job because you are just out of prison and no one wants to hire you, zero job programs or training programs for parolees. One can't even go to VESID (vocational training) until 6 months after you get out of prison and by then it is usually too late.
People need these services as soon as they come home and because of all this lack of support, every parolee is set up for failure. So she just gave in to all the temptation around her and started partying and having a good time, and even though her mother begged parole to try to live in a drug and alcohol program instead of sending her back to prison, they didn't care and did what they do best. That is to not keep people out of prison but to make sure they end up back in. Do the math, almost zero services and supports for parolees in this country why is this and who lets this happen?
By this time she came back to Bedford Hills, she was pregnant. D's time in the prison system was not easy, she was an outsider even in prison, she had a extensive disciplinary record which was making her mental health issues worse, and she had a long history of suicidal behavior, she had been hospitalized before incarceration and during. Making matters worse, she was always in Keeplock or SHU and this did nothing to help her problems. In coming back to prison, it was so much harder to deal with than the time before and at that point, I believe she thought nothing would ever change, she was in a cycle she could not get out of and I think she was just getting soul tired.