December 20, 2014 By Vaidya Gullapalli Leave a Comment
On December 17, a federal jury found a former corrections officer on New York's Rikers Island guilty of deliberately ignoring the medical needs of a man who died in 2012 while being held in solitary confinement. Terrence Pendergrass was a captain and the supervising corrections officer on duty when Jason Echevarria, a pre-trial detainee with a history of mental illness, ingested a highly caustic detergent. For hours before he died, Echevarria pleaded for help from multiple corrections officers and civilian staff.
The verdict comes at a time when Rikers Island has been under fire for staff negligence and brutality in both the press and a major investigation by the U.S. Department of Justice. Against this backdrop, the trial and conviction of Pendergrass happened quietly and quickly but becomes a part of a conversation about the accountability of uniformed officers and the brutalization of people in the criminal justice system.
Terrence Pendergrass was convicted in federal district court in Manhattan of "deprivation of rights under color of law," a federal law that penalizes agents of the government acting in their official capacity for violating a person's rights. The right in question was that of a person held in a jail or prison to be provided medical care when he was in serious need of it.
Pendergrass was the supervising officer on duty when Echevarria told officers that he had swallowed detergent used for cleaning cells, and needed to see a doctor. He was found guilty of "deliberate indifference" to Echevarria's medical needs, resulting in Echevarria's serious physical injury and eventual death. Under ordinary circumstances, ignoring the sick and the dying is not defined as a crime. But staff in prisons and jails – where incarcerated people are not free to move as they choose, not free to call a doctor, not free to go to an emergency room – have a responsibility to ensure that the people in custody receive medical attention when they need it.
As the New York Times reported, this was the first time in ten years that the U. S. Attorney for the Southern District of New York had prosecuted a corrections officer under this statute. Pendergrass faces up to ten years in federal prison.
Life and Death in Custody
The trial, which took place over a week and a half at the Thurgood Marshall courthouse in Lower Manhattan, offered a bleak image of what life is like on Rikers Island, especially for individuals with psychiatric disabilities.
On August 18th, 2012, the day he died, Jason Echevarria was one of the thousands of people held on Rikers Island in pre-trial detention.  Like thousands of others held in the island's jails, Jason Echevarria had documented mental health needs, including bipolar disorder. He reportedly had attempted suicide more than once while at Rikers. He was placed in solitary confinement for "infractions" he committed – violations of jail rules. Because of his mental health needs, his solitary confinement was in MHAUII, the Mental Health Assessment Unit for Infracted Inmates.
MHAUII was specifically designated for the punitive segregation of men with mental illness at Rikers Island. Late last year, after concerns about conditions, MHAUII was officially shut down, though the building is still in use and the two units that came to replace it are still for the punitive segregation of the mentally ill. (The corrections staff who testified in court last week were hard-pressed to answer the question of whether MHAUII was still open or closed, or explain what has replaced it.)
In MHAUII, Echevarria was in his cell round the clock except for the single hour a day he sometimes could leave for recreation or a shower. All food, medication, or anything else he might need was given to him through a slot in his door. On August 17th, he "held his slot," jamming his mattress into the opening for two and a half hours so that a corrections officer had to go over and address the problem. In the government's narrative, this incident created a motive for Terrence Pendergrass to ignore Jason Echevarria the next day. While an incident like this would normally have been punished with yet another "'write-up", Echevarria did not receive one. A corrections officer testified that on another occasion, when he had urged Pendegrass to punish someone with an infraction, Pendergrass had said, "There are ways to get back at inmates besides infractions."
The following day, a toilet overflowed and the entire housing area was flooded with raw sewage. Echevarria asked for a "soap ball," as packets of detergent used to clean the hallways and cells are commonly known. A corrections officer, in violation of protocol, gave him one or more packets. For cleaning purposes, each of these packets is supposed to be diluted in three gallons of water. It was unclear whether staff and the people incarcerated were in the habit of using the detergent without water, or if this was sheer carelessness on the part of the officer who gave the soap ball to Echevarria.
The medical examiner who conducted the autopsy and testified as an expert witness at trial described the detergent Echevarria ingested as more caustic than household bleach. He explained that when Echevarria swallowed the detergent it began to "liquefy" all the human tissue with which it came in contact, causing chemical burns to Echevarria's mouth, tongue, throat, larynx, epiglottis, digestive tract, esophagus, airways, and stomach lining. The examiner provided extensive evidence of the body reacting to its various injuries, and the many hours that must have passed between Echevarria's immediate injuries and his death.
Two corrections officers testified to Echevarria's suffering, his pleas for help, and Captain Pendergrass's indifference. These officers – Raymond Castro and Angel Lazarte – said all they could do for Jason Echevarria was follow "the chain of command" – tell their captain about Echevarria's condition so that the captain could have Echevarria taken out of his cell, arrange for an escort to take him to the medical clinic, and clear the hallways. It is exactly this, they say, that Pendergrass refused to do. Castro testified that Pendergrass's response to hearing that Echevarria had swallowed a soap ball containing bleach was, "Don't come to me if you living, breathing bodies. Come to me if you need a cell extraction or you have a dead body." Castro later saw vomit, "plain to see," in Echevarria's cell but when he went back to tell Captain Pendergrass about this, Pendergrass said, "Tell him to hold it."
Raymond Castro testified for hours on the second day of trial. Three different times he broke down on the stand, wiping tears from his eyes as he remembered Echevarria calling out for him, "Castro, Castro." Video surveillance showed Castro stopping by Echevarria's cell over and over again during his shift, looking in through the small window. He came by one last time at 11 o'clock, just as his shift was ending for the night and he was due to report to another housing area for a second shift. The surveillance footage shows him standing at Echevarria's cell for a full minute, simply watching.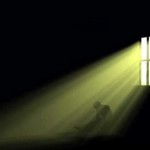 December 15, 2014 By Lisa Dawson 6 Comments
North Carolina corrections chief David Guice wants more than $20 million to improve the treatment of people with mental illness in the state's prisons. His request comes on the heels of two recent reports showing neglect and abuse of prisoners with psychiatric disabilities in North Carolina, and the death in custody of one such individual, […]