Guest Post by Kanya D'Almeida and Bret Grote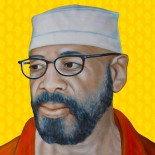 "Control unit facilities cannot be allowed to exist," writes Russell Maroon Shoatz in a piece called "Death by Regulation." "They serve no purpose other than to dehumanize their occupants. Our collective welfare demands that we do everything within our power to bring about an end to this form of imprisonment and torture."
Shoatz, a former Black Panther who will turn 70 years old in August, has been held in solitary confinement in Pennsylvania prisons since 1983. His only time in the general prison population in the last 30 years was an 18-month stint spent at the federal penitentiary at Leavenworth that ended in 1991.
Maroon has had only one misconduct since 1989. His most recent violation was in 1999, when he covered a vent in his cell that was blowing cold air in an attempt to stay warm.
From 1995 until the end of last month, Maroon had been held at the State Correctional Institution (SCI) Greene in southwestern Pennsylvania. Without warning Maroon was transferred on Thursday, March 28 to SCI Mahanoy in the eastern part of Pennsylvania.
A growing grassroots national movement had been mobilizing to win his release into the general population. This transfer appeared to be a response by the Pennsylvania Department of Corrections to the gathering legal and political pressure.
On April 8, 2013, Pennsylvania prison officials were given 30 days notice to release Maroon from solitary confinement. If he is not in the general prison population on May 8, his legal team will file a major civil rights lawsuit the following morning.
Represented by Stefanie Lepore and Rick Etter from the international firm Reed Smith, Dan Kovalik of the United Steelworkers, and Dustin McDaniel of the Abolitionist Law Center, Maroon has drawn support from a growing number of civil society groups as well. More than 20 organizations around the country, including the Center for Constitutional Rights, the National Lawyers Guild, and the American Friends Service Committee New England Region have joined the call and mobilized to demand his release from solitary.
On Monday, April 15, the Campaign to Free Russell Maroon Shoatz announced that Maroon and his legal team had been told by prison officials that Secretary John Wetzel personally ordered his transfer to SCI Mahanoy to remove him from solitary. Still, Shoatz remains in solitary confinement, and the campaign cautioned that he has been misled in the past about re-entering the general prison population.