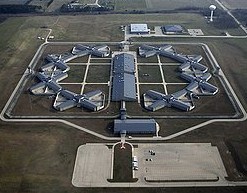 The Obama Administration's 2014 budget request for the Department of Justice, released this week, confirms that the federal government will open a second ultra-secure supermax prison within the next two years. The new prison will be an "Administrative Maximum U.S. Penitentiary." Administrative Maximum is a security classification currently held only by the notorious ADX Florence in Colorado, where some 400 individuals are held in isolation and sensory deprivation so extreme that it has been challenged in a series of lawsuits and widely denounced as torture.
The new supermax will be created by renovating Thomson Correctional Center, an unused maximum security prison in Illinois, which was purchased by the federal government last year. Originally, the Obama Administration envisioned Thomson as a future home for Guantanamo detainees–a move that was blocked by Republicans in Congress. Instead, while Guantanamo remains open, the Bureau of Prisons is moving ahead with plans to open hundreds, and perhaps thousands of new isolation cells at Thomson to "reduce crowding in high security facilities."
The following summary appears in a Budget Fact Sheet on "Prisons and Detention," released along with the federal budget numbers last week:
The FY 2014 Budget requests a total of $8.5 billion for federal prisons and detention, a 3.5 percent increase over the FY 2012 appropriated level. Of this amount, $6.9 billion is requested for the Bureau of Prisons (BOP), which is a 4 percent increase ($195.1 million) over FY 2012…

For BOP, the current services level includes resources to fully activate two prisons: Federal Corrections Institution (FCI) Aliceville, AL, and FCI Berlin, NH. These prisons received partial activation funding in FY 2012, and full activation will increase federal prison capacity and alleviate overcrowding and related security issues.

Program increases totaling $236.2 million provide for the activations of newly constructed prisons and for new contract beds, allowing BOP to keep pace with the increased number of inmates. Specifically, increases for BOP include $53.4 million to begin activating two prisons: FCI Hazelton, WV (1,280 beds), and U.S. Penitentiary Yazoo City, MS (1,216 beds), for which construction will be completed in FY 2013. There is $15 million to renovate the Thomson Correctional Center and $43.7 million to begin activating the facility as an Administrative-Maximum U.S. Penitentiary in FY 2014. [Emphasis added.] The request also includes $26.2 million to procure 1,000 new contract beds. These resources are essential for ensuring the secure detention of a growing inmate population.
A subsequent section of the Budget Fact Sheet, detailing "Program Increases," states that Thomson will have 2,100 beds, employ 749 corrections officers, and cost $58.7 million to renovate and operate.
ADX USP Thomson, IL: $58.7 million and 1,158 positions (749 correctional officers)

$15 million to renovate the Thomson Correctional Center for high security federal prison use. $43.7 million to begin activating ADX USP Thomson (2,100 beds) as an administrative-maximum high security facility. ADX USP Thomson is expected to reduce crowding in high security facilities from 59 percent by 43 percent by the end of FY 2015…
Solitary Watch has requested additional information from the Bureau of Prisons to determine precisely what conditions of confinement will be for the 2,100 prisoners held at Thomson. When we asked about Thomson for an article published back in February, BOP spokesperson Chris Burke said in an email that "Thomson will be a high security prison holding inmates with various security needs, including SMU and ADX type inmates." Federal SMUs, or Special Management Units, such as those found in Lewisburg Penitentiary in Pennsylvania, hold their prisoners in 23-hour-a-day lockdown in two-person cells. At ADX, prisoners are in 23- to 24-hour solitary confinement. Both are forms of long-term isolated confinement, and both have been denounced by human rights and prisoners rights groups as an inhumane and ineffective form of punishment often amounting to torture.