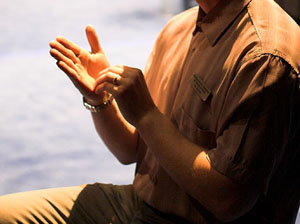 In the a Florida prison called the Reception and Medical Center, a corrections officer appears at a cell door and begins mocking fake sign language to the man inside, who is deaf. Then he pulls Sam Hart out of the cell and escorts him for a haircut. After half his hair is shaved off one side of his head, the guard orders the haircutter to stop.
As Hart describes in a letter, the officer then says, "Look, not only is he deaf but now he even looks dumb."
Hart, who was born hearing and can speak and read lips, replies, "Don't play with me, I do not play with you and I do not disrespect you."
"Fuck you," says the officer. "Mother fucker." The next day the same officer stops by Hart's cell. "Did you get to show it to the warden, dummy?" he asks.
"The abuse experienced by deaf prisoners housed in the Florida Department of Corrections defies imagination" Talila Lewis, founder and president of HEARD (Helping  Educate to Advance the Rights of the Deaf ), a group that supports deaf prisoners, wrote in the op-ed pages of the Sun Sentinel, the south Florida newspaper. She continued:
The Florida Department of Corrections (DOC) has systematically created a culture of fear and hopelessness for disabled prisoners. The DOC's failure to  provide adequate accommodations for and protections to this vulnerable population is beyond reproach.  Countless deaf prisoners, their family members, and advocates have expressed concern for the safety and well-being of these prisoners in Florida's state prison facilities.  Many of Florida's deaf prisoners, fearful of  brutal retaliation and assured of prison official's apathy or complicity, have all but given up hope of ever living safe from fear of sexual and physical assault.
Lewis said her information is based on 21  deaf prisoners out of a total of 40 in Florida, held  in six different prisons across the state. Overall, Lewis writes, "HEARD's Deaf and Deaf-Blind Prisoner Database includes information on more than 400 men and women, in 38 states, the District of Columbia, and the Federal Bureau of Prisons. The abuse and violations occuring in Florida are, by far, the worst that we have seen."
Lewis said she has sent letters to the Governor Rick Scott, Department of Corrections head Michael D. Crews, and state prison inspector general  Jeff Beasley. So far she has received no replies. She also wrote to and met with officials in the Justice Department's disability rights section, and received no response from there, either. Inquiries by Solitary Watch to Ann Howard, press spokesperson for the Florida Department of Corrections, so far have not been answered.
"This past year, one deaf prisoner [later revealed to be Sam Hart] risked his life to report to the Office of the Inspector General horrendous physical and sexual abuse of other prisoners with disabilities as well as other serious violations occurring at the prison [Tomoka Correctional Facility]," Lewis wrote in her op-ed. She continued:
Though this prisoner's complaint resulted in at least two officers being fired and numerous prisoners being transferred out of the facility, the Office of the Inspector General informed staff at Tomoka that this prisoner was responsible for lodging this "anonymous" complaint.  As a result of this breach of confidentiality, this prisoner's life has been threatened by staff and prisoners at Tomoka.  Just last week, despite numerous requests from advocates not to send him back to this facility, the Florida Department of Corrections sent this prisoner back to what can only be described as a living hell for this man who sacrificed his own safety to protect others.  As of the writing of this letter, he has not been heard from by any of those community members with whom he consistently maintains contact.
Lewis told Solitary Watch she "fears Hart will be killed just as soon as he is released from solitary in late May."