August 20, 2014 By Savannah Crowley Leave a Comment
New York City advocates and public officials gathered on the steps of City Hall on Monday to demand an end to the "culture of brutality" emerging from New York City's Rikers Island, the second biggest jail in the country. The demand followed recent reports released by the United States Department of Justice and the New York City Board of Corrections, as well as months of investigative reporting by the New York Times, exposing brutality, violence, and excessive use of solitary confinement by officers specifically against mentally ill and teenage inmates. One previously incarcerated advocate that spoke at the event described Rikers as "worse than Dante's Inferno."
At the press conference, organized by the New York City Jails Action Coalition, speakers expressed support for legislation introduced by Councilman Daniel Dromm of Queens that would bring about much needed transparency and oversight to Rikers. The bill will be voted on this Thursday in the City Council. Speaking at the event, Dromm recounted his tour of Rikers saying, "I saw the horrible conditions inside of solitary people have to endure—a very small cell, the smell of urine, graffiti, a bed that was rusted, a mattress that had mildew on it, a blower of heat directly on top of the bed blowing down." Strong criticism of Rikers Island has surfaced most recently after a series of exposes in the New York Times covering the staggering rise in violence at Rikers since 2009.
The Times managed to uncover an internal report conducted by the city's Department of Health and Mental Hygiene that documented, during an 11 month period, 129 cases of violence by corrections officers towards prisoners yielding injuries so serious they could not be treated at the jail's clinic. Individuals incarcerated at Rikers suffered fractured jaws and eye sockets, wounds needing stitches, and severe back and head trauma. The report found that 77 percent of those seriously injured had a diagnosis of mental illness. Yet in not one of the 129 cases was a corrections officer prosecuted.  Over half of the 80 prisoners interviewed by health department staff admitted to being intimidated by officers during their treatment, making it easier for staff to cover up the violent episodes.
According to the same article, about 4,000 out of 11,000 people held at Rikers have a mental illness. This number is about 40 percent of the jail population, a 20 percent increase from eight years ago. Few corrections officers have received any in-depth training on how to deal with individuals with mental illness.
Criticism of policies at Rikers Island continued to rise after August 4, when the United States Department of Justice unveiled a secret three-year investigation of Rikers conducted from 2011 to 2013. The investigation concluded that there is a "deep seated culture of violence" at the jail and that the New York City Department of Correction (DOC) has violated the civil rights of adolescent males ages 16 to 18, by subjecting them to and not protecting them from excessive force and violence. For example, the report said, "In FY [Fiscal Year] 2013, there were 565 reported staff use of force incidents involving adolescents… (resulting in 1,057 injuries)."Teenagers at Rikers suffered extreme violence by officers including "…broken jaws, broken orbital bones, broken noses, long bone fractures, and lacerations requiring sutures."
The Department of Justice (DOJ) report released by the office of Preet Bharara, the United States Attorney in Manhattan, also condemned the use of solitary confinement against adolescents held at Rikers. The report reads: "Moreover, DOC relies far too heavily on punitive segregation as a disciplinary measure, placing adolescent inmates—many of whom are mentally ill—in what amounts to solitary confinement at an alarming rate and for excessive periods of time."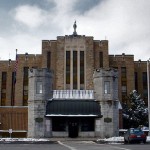 August 19, 2014 By Jean Casella and James Ridgeway Leave a Comment
Update, 8/20/14: Yesterday, the Sylvia Rivera Law Project released a new call to action to "Demand Safer Housing for Trans People in New York State Prisons." After once again citing our investigation, SLRP tells the story of Synthia China Blast, a transwoman who has spent a decade in isolation in New York's prisons, with an accompanying video […]