March 5, 2014 By Jean Casella 6 Comments
It didn't take much reading between the lines to decipher the central message of last week's Senate Judiciary Subcommittee hearing on solitary confinement. Lawmakers and witnesses alike appeared to agree: There are people in solitary confinement in American prisons who just don't belong there. And then, there are other people who do.
In taking this approach, the hearing reflected a growing consensus on how to deal with the more than 80,000 people held in isolation in U.S. prisons. An increasing number of elected officials, corrections departments, and even some prison reform advocates are condemning not solitary confinement itself, but the "overuse" of solitary. They call for a "reduction" in the numbers of individuals held in isolation, beginning with vulnerable groups like children and people with mental illness, and moving on to those who commit minor infractions.
From a pragmatic point of view, it's difficult to fault this strategy, which promises a prompt reprieve to those who are likely to be suffering the most, and are also likely to win the most sympathy from politicians and the public. Yet the approach is troubling to some advocates, who believe that solitary confinement as it is practiced in the United States today is by nature torture, and therefore unacceptable treatment for anyone. By sending the message that incarcerated individuals fall into two groups — those who deserve relief from the torturous effects of solitary confinement and those who do not — it may also have the effect of driving some people even deeper into the hole.
The message was clear enough in Chairman Dick Durbin's opening remarks before a packed hearing room on Capitol Hill last Tuesday, as the Senate Judiciary Subcommittee on the Constitution, Civil Rights and Human Rights met for the second time in two years to consider "The Human Rights, Fiscal, and Public Safety Consequences" of solitary confinement.
Durbin's statement began with broad strokes. The fact that "the United States holds more prisoners in solitary confinement than any other Democratic nation" is a "human rights issue that we cannot ignore," the Illinois Democrat said. He quoted Anthony Graves, a Texas death row exoneree who testified at the first Senate hearing on solitary 2012: "'No one can begin to imagine the psychological effects isolation has on another human being. Solitary confinement does one thing: It breaks a man's will to live.'" In his seven years as chair of the subcommittee, Durbin declared, "I cannot remember more compelling testimony."
But Durbin quickly narrowed his focus. Noting that the hearing was taking place on the one-year anniversary of the murder of a federal correctional officer, Durbin said emphatically: "Make no mistake….Some dangerous inmates must be held in segregated confinement." By way of  example, Durbin described a visit to Tamms, the now-shuttered Illinois state supermax, where he asked officials to "take me to the worst of the worst," and met a man who had murdered his cellmate. Some people would always be threats to the safety of staff and other prisoners, Durbin said, and "We've got to balance that against our concerns about humane treatment of those in solitary confinement."
As if to head off potential critics, Durbin then addressed an apparent contradiction in his own political record on the issue of solitary confinement by bringing up Thomson Correctional Center.  For years, Durbin has championed the federal government's acquisition of Thomson, an unopened state prison in northern Illinois. Referring to Thomson at the hearing, Durbin promised that he would work with federal Bureau of Prisons (BOP) to ensure "that all prisoners held there are treated appropriately and humanely."
That's a promise that Durbin will find hard to keep. As the BOP confirmed to Solitary Watch last year, a significant portion of Thomson will be used for solitary confinement, including "Administrative Maximum" cells like those at ADX Florence, the notorious federal supermax in Colorado. A state-of-the-art isolation facility, ADX Florence epitomizes the worst that solitary confinement can do to the human mind and body. Several current lawsuits, as well as increased media coverage, have uncovered horror stories of psychotic prisoners at ADX Florence who gouge holes in their own flesh or eat their own feces, and frequently attempt suicide (sometimes successfully). On the day of the Senate hearing, Solitary Watch reported on the existence of a hunger strike and force-feedings in ADX Florence's most secure unit.
In any event, Durbin wasted no time elaborating on how to provide a more humane environment for the "worst of the worst," or even for the bulk of people currently held in solitary. Instead he turned his attention to a limited number of vulnerable groups. "Today I am calling for all federal and state facilities to end the use of solitary confinement for juveniles, pregnant women, and people with serious and persistent mental illness, except in the rarest of circumstances," Durbin stated.
The opening remarks effectively set the agenda for the entire hearing, which featured witnesses hand-picked by Durbin's staff — in consultation, he said, with Ranking Member Ted Cruz. In the 2012 hearing, Durbin had grilled BOP Director Charles Samuels on a wide range of issues related to solitary. This time he commended Samuels for cooperating with an "independent" audit of the BOP's use of "restricted housing."
Durbin asked Samuels about children (there are only 62 in the federal system, and 1 in restricted housing); mental health treatment (ADX now has 5 mental health staff treating 413 isolated prisoners, instead of 2, and they also have access to a "telepsychiatrist"); and pregnant women (women in restricted housing are rare, presently numbering only 197). Durbin did not question Samuels' contention that individuals in long-term isolation receive "intensive treatment" and "adequate time out of their cells for recreational time."
In friendly conversation with Texas Republican Ted Cruz, Samuels pointed to a decrease in the Bureau of Prisons' use of isolation. "Since the hearing in 2012," he said, "we have reduced the restricted housing population by over 25 percent. Within the last year, we have gone from 13.5 percent to 6.5 percent." (The numbers do not come close to computing, and the BOP did not immediately respond to Solitary Watch's request for clarification.)  Samuels also contended that "94 percent of the inmates within our system have no mental illness," and only 555 federal prisoners had serious mental illness requiring "intensive treatment." Samuels did not say how many of the 555 were in restricted housing, and no one asked.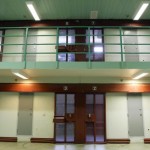 March 3, 2014 By Voices from Solitary 1 Comment
This post is the third in a series of pieces Solitary Watch is publishing as part of a new project calling for people held in solitary confinement to write on various proposed themes (read the first and second entries here and here). Our first suggested theme, "A Day in the Life," calls for writers to describe a day in his […]